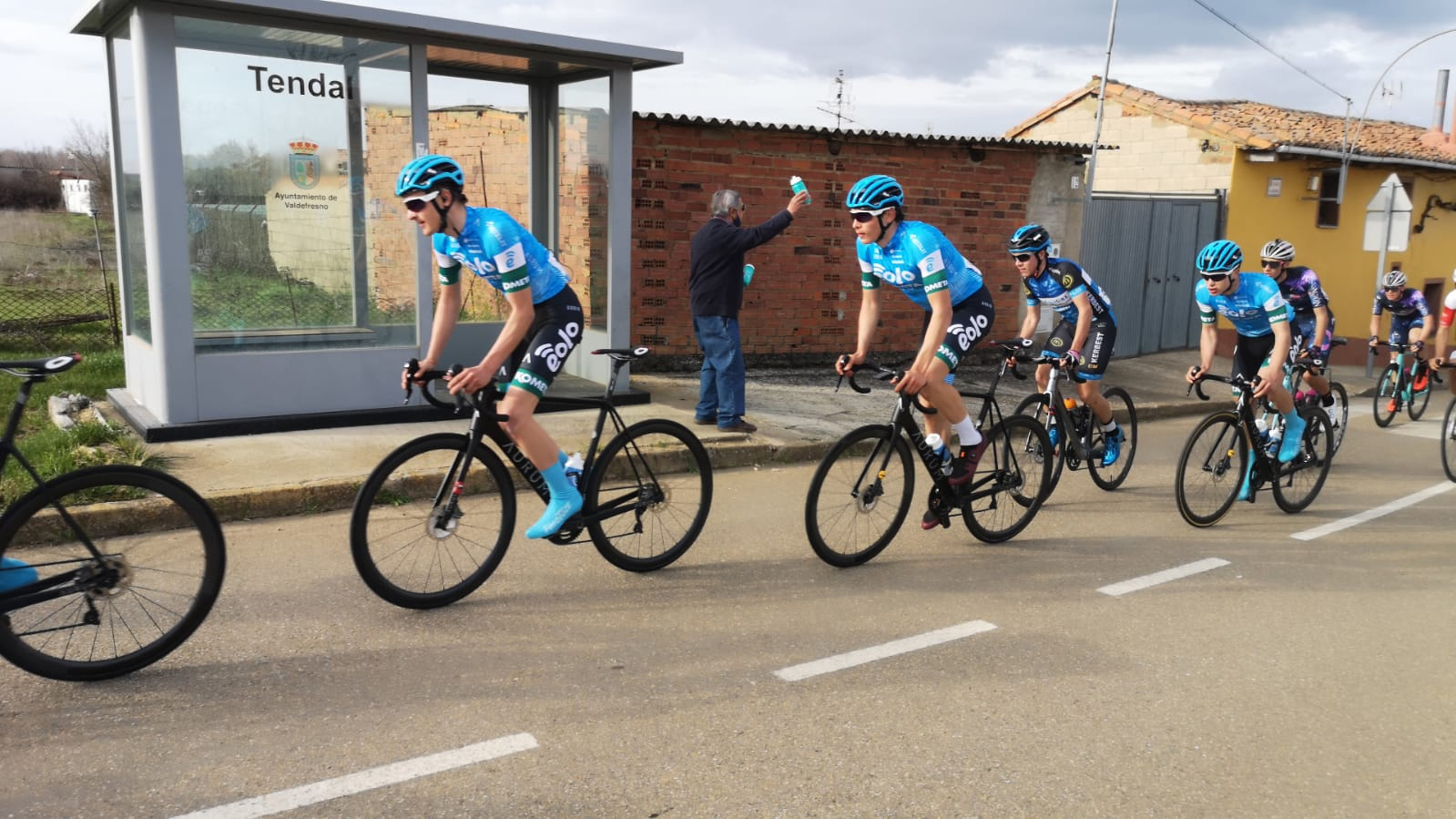 A successful weekend for the riders of the youth team of the Alberto Contador Foundation
Joan Cadena, in the II Gran Premio Trofeo Ayuntamiento de Valdefresno, and the Hungarian Gergo Magyar, in the first round of the Austrian Cycling League, both won in the colours of the EOLO-KOMETA Cycling Team.
Although strictly speaking the first victory of the season 2022 for the junior EOLO-KOMETA Cycling Team came in the recent team time trial of the Trofeo Víctor Cabedo, during this weekend the first individual victories of riders of the team have materialized. The first two victories of the new course.
The first one came this Saturday with Joan Cadena. The fast rider from Tarragona, who had already been second a few weeks ago in the sprint that finished the Joan Bautista Llorens Memorial in Vila-real, showed his top speed again this Saturday in León with his victory in the Gran Premio Ayuntamiento de Valdefresno.
Cadena's victory was cemented by the great approach made by the boys led by Guillermo Gutiérrez. In a race that developed mainly grouped, always with a large group in command beyond some occasional attempts of escape, the junior team of the Fundación Contador worked hard especially in the last twenty kilometres to keep the race under control.
📡 #EquipoJunior. Nuestro corredor húngaro Gergo Magyar se impuso este domingo en la carrera juvenil de la prueba inaugural de la Liga de Ciclismo de Austria #ORVRadLiga, celebrada en Leonding sobre 85,9 kilómetros. #EOLOKOMETACyclingTeam pic.twitter.com/YJ10rRgrZG

— FundContadorTeam (@FundContaTeam) March 27, 2022
On Sunday, meanwhile, the Hungarian Gergo Magyar achieved the first success of a Foundation cyclist on Austrian soil. Magyar, one of the most promising Magyar cyclists, won this Sunday in the youth race of the inaugural round of the Austrian Cycling League #ORVRadLiga, held in Leonding over 85.9 kilometres.
The international presence of junior cyclists was completed with the participation of the Hungarian Bálint Feldhoffer in the Ghent-Wevelgem, first race of the U19 Nationals Cup promoted by the International Cycling Union.
More info about the win of Joan Cadena and the win of Gergo Magyar.