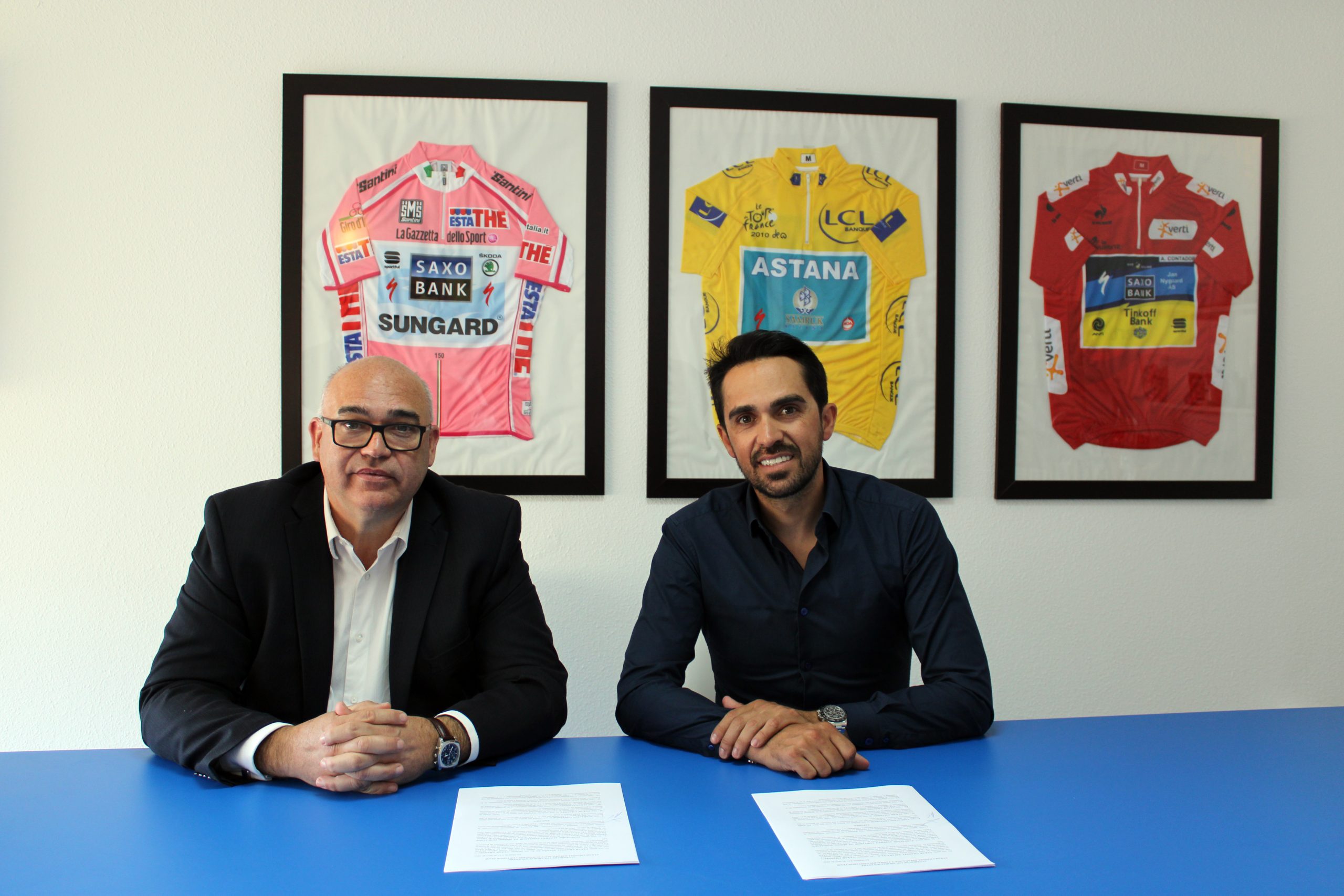 #BicisParaLaVidaBySKODA #Ictus
Clear Channel and the Fundación Contador, together to raise awareness against stroke and promote the use of bicycles
The multinational Clear Channel, through its subsidiary for Spain, and the Fundación Alberto Contador have signed a collaboration agreement on Wednesday by which both entities join forces to raise awareness against stroke and promote the use of bicycles not only for sports, but also as a leisure tool and as a means of sustainable transport.
As a result of this understanding, the Contador Foundation will be able to bring its projects and initiatives closer to the public thanks to the temporary assignment of advertising media managed by Clear Channel in the digital street furniture of the four most populated cities in Spain. Madrid, Barcelona, Valencia and Seville are the four cities in which this collaboration agreement will initially be implemented, for the dissemination of initiatives of the Alberto Contador Foundation.
Clear Channel is one of the leading companies in the outdoor advertising sector, with a presence in 23 countries and three continents, and with experience in the management of sustainable transport systems in cities in 9 different countries. The signing of the agreement, which was held at the facilities of the Bicis para la Vida by ŠKODA project in the Madrid town of Pinto, was attended by Jordi Sáez (CEO) and Juan Carlos Osorio (Head of Marketing), on behalf of Clear Channel, and Alberto Contador, president of its foundation.
This is not Clear Channel's first cooperation with the Contador Foundation, as they have collaborated intensively with the Bicis para la Vida by SKODA project since 2021, with more than two hundred bicycles donated from some of the bike sharing services operating in Spain.
Alberto Contador, president of the Alberto Contador Foundation: "We are especially happy about this partnership agreement with Clear Channel. Thanks to their commitment and generosity, the message of the Foundation will be able to reach more people. A message of awareness about the seriousness of a disease like stroke and how easy it is to start fighting it with healthy lifestyle habits and an active lifestyle. A message of how beautiful and beneficial cycling is for health and even, used as a means of transport, also for the domestic economy".
Commenting on this agreement, Jordi Sáez, CEO of Clear Channel Spain and Market Leader for Southern Europe, said: "Our collaboration with the Foundation began a year ago with the donation of bicycles for the Bicis para la Vida by ŠKODA project, which collaborates in numerous initiatives supporting people at risk of social exclusion. We are now extending our collaboration to raise awareness of the risks of stroke by supporting research into it, as well as encouraging the use of bicycles in everyday life, as their use promotes healthy living and helps to reduce pollutant emissions. These objectives with which the Alberto Contador Foundation works every day are totally aligned with our values and concerns, and it is an honour and a pleasure to be able to support them together with Alberto and his team".