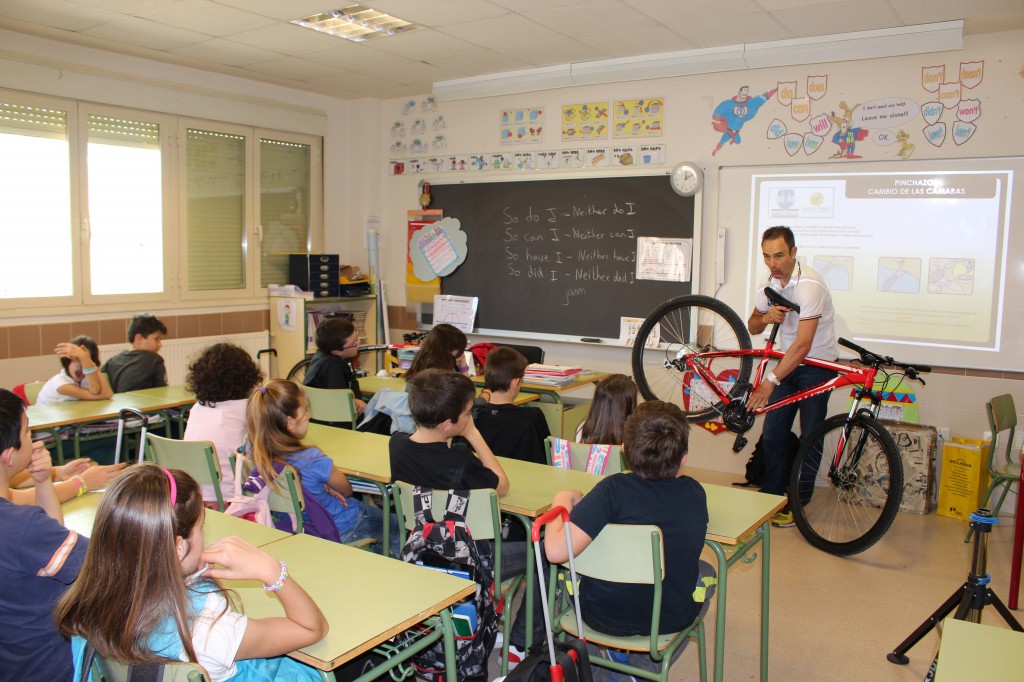 The En Bici Project, the side more formative of the Fundación Contador for schools
The Las Artes Primary Education Center, Pinto, Madrid, is the last school in which one of the most exciting initiatives promoted by the Fundación Contador through its Plaza Éboli Cycling Academy has landed: the educational project En Bici. A commitment to bringing the bicycle closer to young people through its study centre, which is in its fourth year of development; an approach whose motivation is not to be found in racing, but in a more playful, recreational and day-to-day perspective. The promotion of the responsible and safe use of bicycles is one of the Foundation's greatest work.
Félix García Casas, head of En Bici explains: "Among the different projects in which the Fundación Contador works, we have this activity that is not focused on competition, but more on the educational aspect of cycling. A facet more linked to the bicycle as a healthy leisure tool, as a means of transport. It is a project that seeks to raise awareness of the bicycle, the types of bicycle that exist and that also addresses the issue of safety, although not so much from a road perspective as this work is already carried out by the Municipal Police in schools".
At the theme level, the theoretical sessions of the En Bici educational project are broken down into four levels, adapted according to the course. In the Third year of Primary Education, the different types of bicycles from road bikes to BMX, trial and mountain bikes are dealt with, without forgetting the types of bicycles related to disability, such as the tandem for blind people, the tricycle for people with cerebral palsy or the handbike, the hand bike used by people with spinal cord injuries. The variety is not trivial and is due to the Foundation's commitment to making cycling a normalizing and integrating element.
In Fourth, an approach to the parts, components and operation of the bicycle. For Quinto, there are still sessions that deal with the correct ways to ride a bicycle, not so much from the point of view of pure and simple road safety, but at the level of civic behaviour or through advice for better driving. Finally, in Sixth, mechanical knowledge about the bike and basic maintenance for its different elements are taught.
Thanks to a collaboration agreement with the town council through the Galiana programme, En Bici has been launched in up to five schools in the Madrid town of Pinto with great acceptance and very good results; soon it will begin to be taught in the nearby town of Valdemoro. "The project is open to other possibilities and to other centres within the current environment", says García Casas.