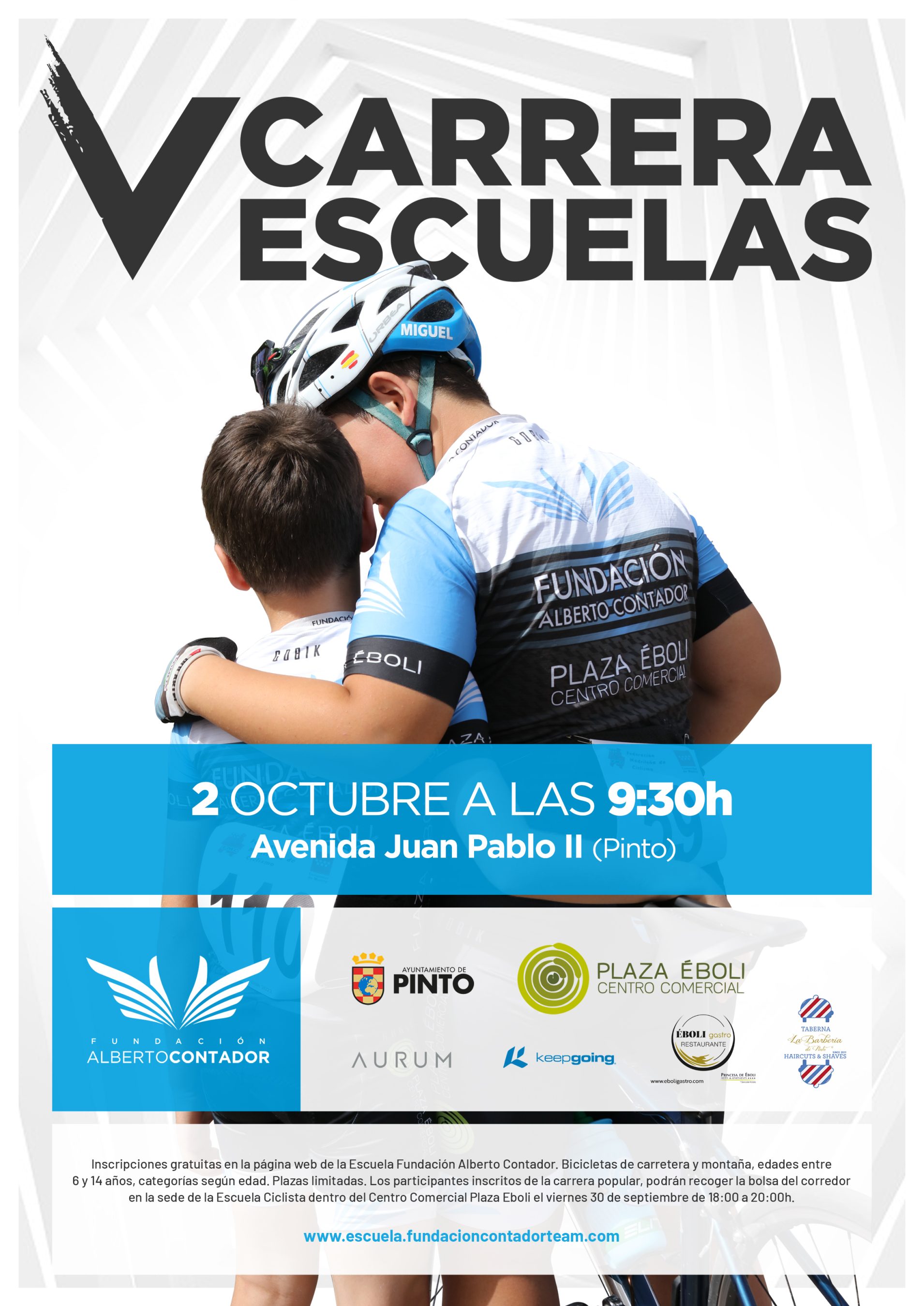 The Fundación Contador Cycling Academies Race celebrates its fifth edition on October 2nd
5th Fundación Contador Cycling Academies Race
Pinto (Madrid): 2nd October
The appointment, the first Sunday of October. The Cycling Academies calendar of the Madrid Cycling Federation will close the 2022 season with a new edition, and it will be the fifth, of the Cycling Academies Race promoted by the Alberto Contador Foundation and the City Council of Pinto with the collaboration of the Plaza Éboli Shopping Centre and the Hotel Princesa de Éboli of Pinto. On 2 October, from 09.30 hours (CET), the streets of Pinto will once again be a party.
For this fifth edition, the great novelty is the recovery of the popular races that were organized in parallel to the federated competitions for the different categories (beginners, promises, juveniles and children). These non-competitive races are completely free to register for and are open to both racing bikes and mountain bikes, with participants aged between 6 and 14 years old. These races will be the first to be held. Registration for the popular races can be made through the website of the Plaza Eboli Cycling Academy, while registration for the federated competitions can be formalised through the Madrid Cycling Federation.
An urban circuit in the neighbourhood of La Tenería of 1.8 kilometres, practically flat, will once again be the focus of the competitions, which, depending on the category, will have their own specific number of laps. The finish line will be located in Avenida Juan Pablo II. More than two hundred boys and girls from all over Spain have taken part in recent editions, while the last edition of the popular races attracted another hundred more.

"Once again this year we are back with one of the best moments of the season for some years now: the day of the Academies Race. This year is much more special because we can once again organise the popular races with which we want to stimulate both the use of bicycles and a more recreational approach to a day of competition at school level and all the atmosphere, kids and families, that goes with it. One more year we have to thank both the Pinto City Council and the Plaza Eboli Shopping Centre for their fundamental collaboration in the organization of an event that we hope will be again a cycling party. We cannot forget our friends of the Hotel Princesa de Éboli, who always collaborate with all our initiatives and also do so on this occasion. And to ask, if possible, that the weather be a little milder than in 2021, when we were accompanied by a copious and generous rain", says Paco Romero, responsible for the event within the Foundation.
We want you :-)!