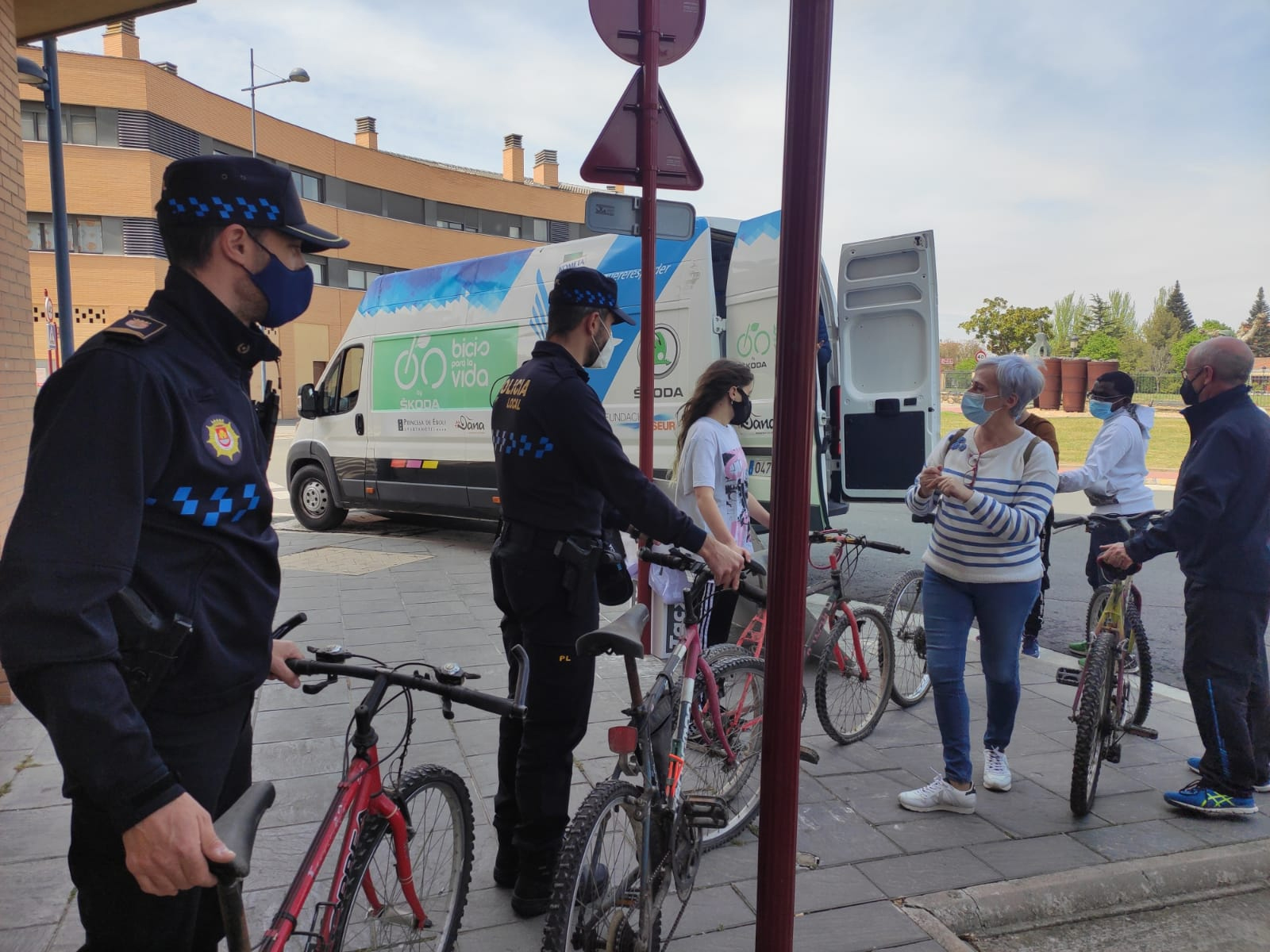 The Haro local police donate 27 bicycles to the Bicis para la Vida by ŠKODA project
A long and intense day, full of emotions. The Bicis para la Vida by ŠKODA project travelled to the Rioja town of Haro on Monday, where it received a very generous donation of bicycles from the municipal police. Up to 27 bikes will receive a second life thanks to the contribution of this body, abandoned bicycles or from different police actions that remained in a municipal auction without being claimed by their owners, in some cases for several years.
Arantxa Carrero, councillor for General Services and the Environment, Citizen Participation, Equality, Volunteering and Civil Protection, Health, Personnel and Public Safety, was present at the presentation ceremony. "We found out about the project through the local police, we thought it was a fantastic initiative and we are delighted to be able to collaborate and do our bit. These were bikes that had been waiting for a long time for people to claim them or report them missing, but it never happened. They were accumulating. A reasonable amount of time has passed and thanks to this project they can be given a way out".
The day was even more special because César and Sergio, two of the members of AMP Pinto who collaborate most intensely with the Contador Foundation project, were present at the collection. "The boys were very excited", smiles the logistics manager Ángel López. "They were really looking forward to this day, for them this trip was a real experience and they told us that these last days it was hard for them to sleep at night because they were so impatient".
The Bicis para la Vida by ŠKODA expedition was treated to a small welcome lunch. "It was a wonderful day, we are very grateful for both the welcome and the treatment," concludes López. The bicycles will now be tuned up by the AMP boys before being destined for one of the projects that have already made contact with Bicis para la Vida.
This donation, explains Carrero, will serve as a starting point to launch a new collection process among the residents of the Jarrera City: "We want to promote a campaign to collect more unused bicycles. As we have emptied this market, we can store them here until, in a while, when we have a few, they can be donated".