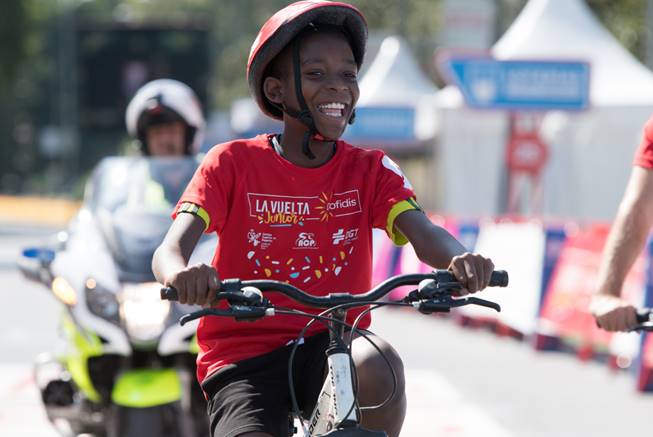 Ensuring the health of students, parents and teachers is the top priority of Cofidis and Unipublic who have decided to hold the event next year. The initiative, led by the financial institution as the main sponsor of La Vuelta, has already trained more than 225,000 children between the ages of 8 and 12 from all over Spain.
The current situation resulting from the pandemic and the health crisis caused by the COVID-19 virus has triggered a whole change in priorities in Spanish schools, with the aim of preserving the health of pupils and preventing the appearance and spread of outbreaks. This same need to guarantee the well-being of students, parents and teachers has motivated Cofidis and Unipublic to hold the 10th edition of La Vuelta Junior next year.
The first round of this renowned and well-established educational project – which is held every year in parallel to the Spanish round – will take place on 14 August 2021, with the city of Burgos as the protagonist, from where the 76th edition of La Vuelta will start, coinciding with the 8th centenary of its cathedral.
Cofidis is leading the project of La Vuelta Junior as the main sponsor of La Vuelta. An initiative that involves more than 25,000 children from all over Spain, aged between 8 and 12, every year. It is an educational and sporting project whose main objective is to encourage good eating habits, sporting practice and road safety among the youngest. The Asociación de Ciclistas Profesionales (ACP), the Fundación Deporte Joven del Consejo Superior de Deportes, Unipublic –the company organising the Vuelta-, the Dirección General de Tráfico (DGT) of the Ministry of the Interior and the Alberto Contador Foundation are also collaborating in this project.
Through the so-called Aulas Ciclistas, the young people learn and put into practice values such as respect, effort and teamwork. At the end of this first theoretical phase, more than 1,500 children are selected to participate each year in one of the 10 stages of La Vuelta Junior Cofidis. In each task, the participants ride the last kilometre of the flat-top stages of La Vuelta, living for one day one of the great dreams of any professional cyclist.
The last edition of this programme saw the incorporation of the Alberto Contador Foundation into the list of entities promoting the project, as well as the launch of a road education campaign, led by Luis Ángel Maté, a cyclist in the Cofidis team, and the Directorate General of Traffic.
📷 Baixali Studio (1) / Cofidis Likes Ciclismo (2)
(automatic translation, sorry for mistakes)